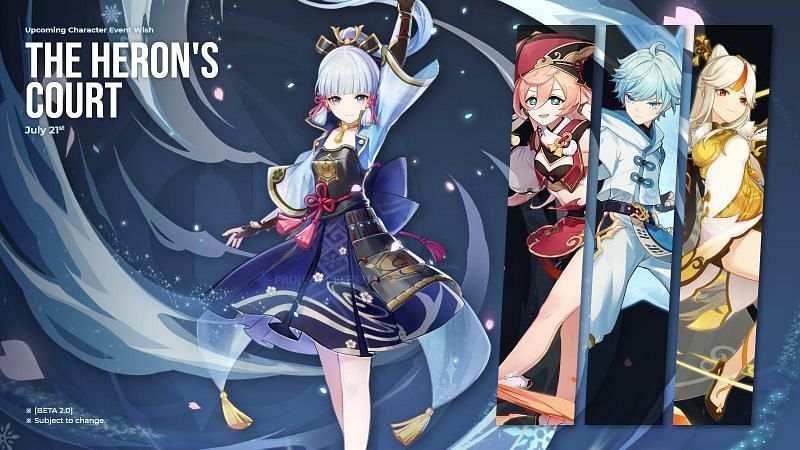 Recent Genshin Impact leaks reveal the two characters that will arrive alongside Kamisato Ayato in the upcoming Genshin Impact Version 2.6.
Character re-runs have become very common in the world of Genshin Impact. Each of the last couple of updates has included at least one double banner re-run and a new additioan to the playable roster.
Genshin Impact's social media accounts have confirmed the arrival of the new Hydro sword user – Kamisato Ayato. The fact that he's the only character announced means that the second banner cycle will most likely include another set of banner re-runs and multiple rumors have already been hinting who those characters might be.
A recent leak by a credible Genshin Impact leaker named Genshinmrx has revealed the two characters that will arrive alongside Kamisato Ayato in the upcoming 2.6 update. The two characters are Venti and Ayaka, and even though the original tweet states that Venti will be on the same banner as Ayato, Gneshinmrx later clarified that this information is not confirmed. This means that Venti will most likely be placed on the same Genshin Impact double banner as Ayaka. Multiple leaks have already confirmed that Kamisato Ayato will arrive in the first banner.
Oh, no, it's wrong
He still doesn't know whether it is double rerun or single rerun in the first. But ayato is still at first. Rerun's people are still venti / Ayaka pic.twitter.com/9PEV1sM18j— Mrx (@Genshinmrx) March 13, 2022
Previously a leak has revealed that the 2.6 Spiral Abyss Floor 11 will provide a 75% Anemo damage bonus which usually means that a five-star Anemo character will be featured on at least one of the banners. Venti is one of the first characters that was released back in 2020, but he is still considered one of the best support characters in Genshin Impact.
For a very long time, Venti has been a must-have for most team compositions since he has the ability to shred elemental resistances, displace smaller enemies, and recharge his own elemental burst which makes him a perfect pick for the Spiral Abyss, especially with those Anemo bonuses. The two main stats that should be focused on while building Venti are Elemental Master and Energy Recharge.
Many players have already been expecting Ayaka's re-run to be placed alongside her brother Ayato. They are expected to have great synergy since their elements, Hydro and Cryo can trigger one of the strongest elemental reactions which is Frozen. However, both of them are considered main DPS characters and players usually tend to avoid two strong damage dealers in their party. This issue could be solved by pushing on of them in a sub-DPS role equipped with a slightly more supportive gear.
Genshin Impact is available right now for Mobile, PC, PS4, and PS5, with a Switch version also in development.